Although the prime focus of sport and entertainment at Greenways is the Golf Course, the outdoor enthusiast will find the Estate has far more to offer.
A circular walking route comprising 3.7 kilometers of tarred pathways meandering through the grounds in the common area as well as running along the beachfront perimeter of the estate is open to all residents. There are several benches along the route where bird-watchers can take delight in discovering the multitude of bird species that have made Greenways their home or just marvel at the magnificent scenery surrounding them.
If walking on the beach is more to your liking, there are several beach accesses allowing the resident direct access onto the beach.
Other outdoor facilities also available to all residents and tenants are all weather tennis courts and a swimming pool together with a kiddies pool in an enclosed area.
The Greenways Restaurant and Conference Centre caters to the needs of all residents be it for a breakfast, snack, sumptuous meal, sundowner or just serving as a meeting place for friends and family to gather and appreciate the magnificent views.
Golf Course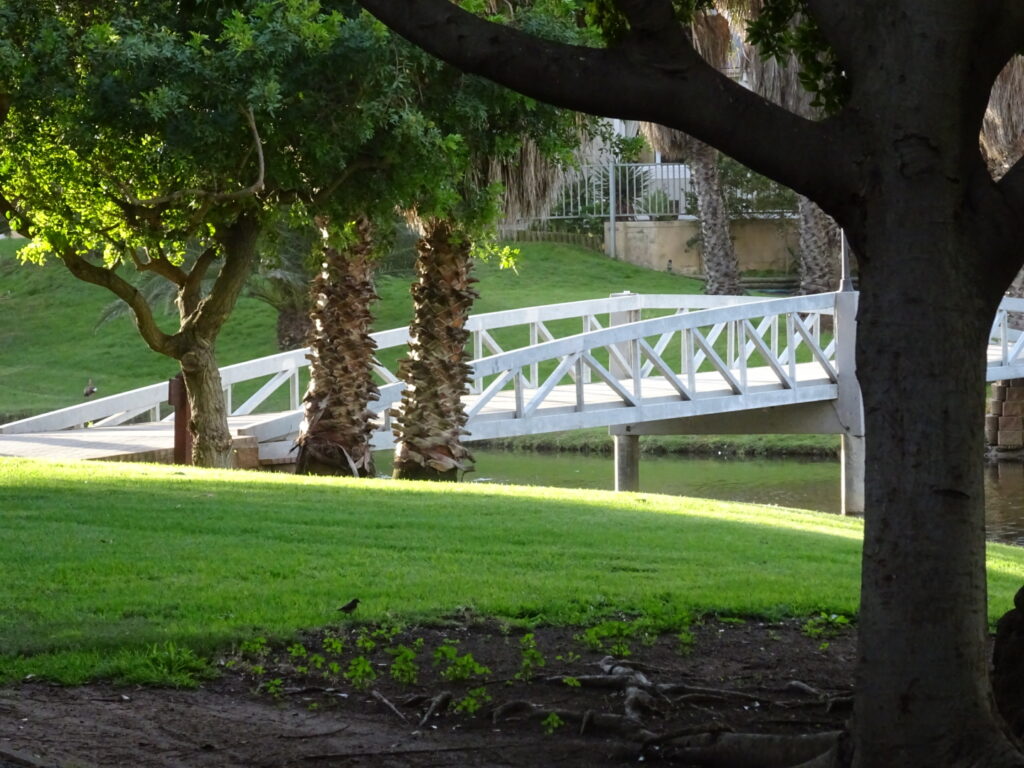 Greenways offers an 18 hole, (9 green) par 3 golf course in beautiful surroundings. The course snakes through the residential area offering beautiful views of the sea, mountains and dams. You can even smell the ocean air from the fairways.
The course presents a challenging round of golf to the player who wants to improve his short game. A 'pitch and put area' lies in close proximity to the first T-box to enable golfers to warm-up before play or to use as a practice area.
All owners, their spouses and resident children together with long term tenants are entitled to use the course, free of charge, throughout the year. Other tenants or guests are required to pay a nominal green fee. The course is now also open to a limited number of non-resident players and their guests who are required to register for annual membership.
More detail available on Golf page
Restaurant and Conference facilities
The clubhouse encompasses a restaurant, licensed bar and conference centre/hall opening onto a verandah with magnificent views of the golf course and beyond, all under the umbrella of the Home Owner's Association. The facility operates 7 days a week and caters for both the 'not-so-hungry' as well as those requiring something more substantial with a simple and yet tasty menu. It also caters for functions inclusive of weddings, birthdays, kiddies parties or corporate meetings.
The addition of a big screen and projector (which can be attached to a laptop computer) has enhanced the main hall which makes it an ideal conference venue for small groups not exceeding 50 persons but can also double up as a 'big' screen when major sporting events are taking place.
More detail available on Restaurant & Venue page.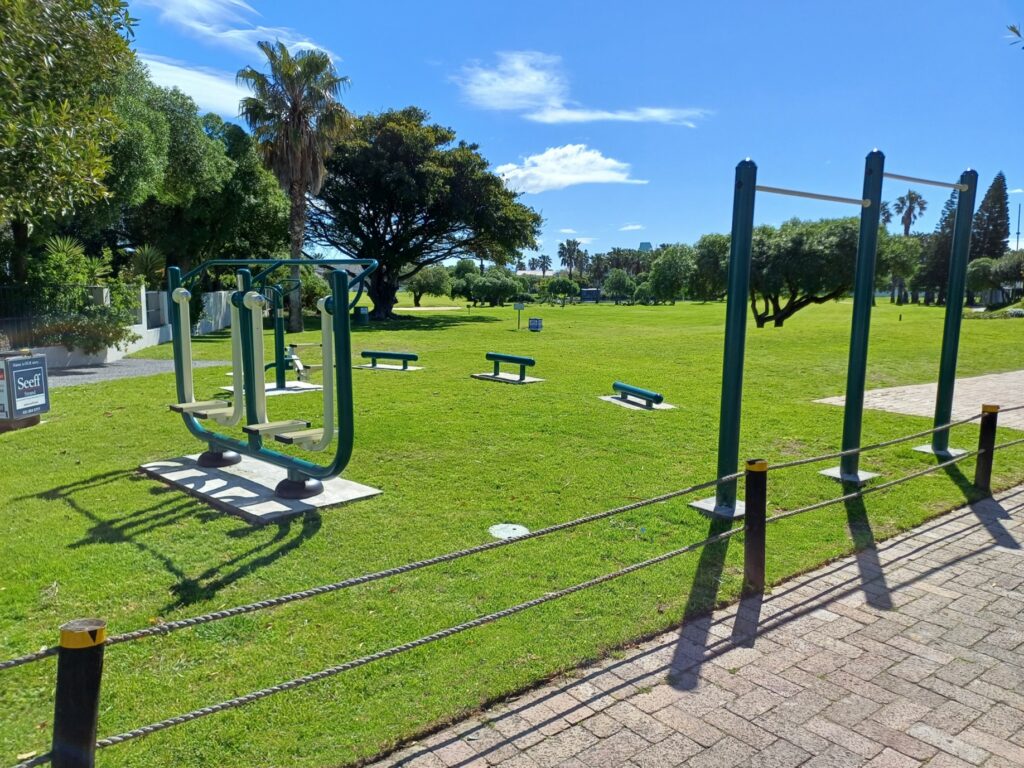 For the benefit of residents who enjoy physical activities, outdoor exercise equipment has been installed for both arm and leg routines on the grass verge in front of the clubhouse.
This is for he use of all residents but it must be borne in mind that such usage is at own risk and the HOA will not hold itself responsible for any injuries sustained. Similarly, children under the age of 12 are not allowed to make use of the equipment unless supervised by an adult.
Swimming Pool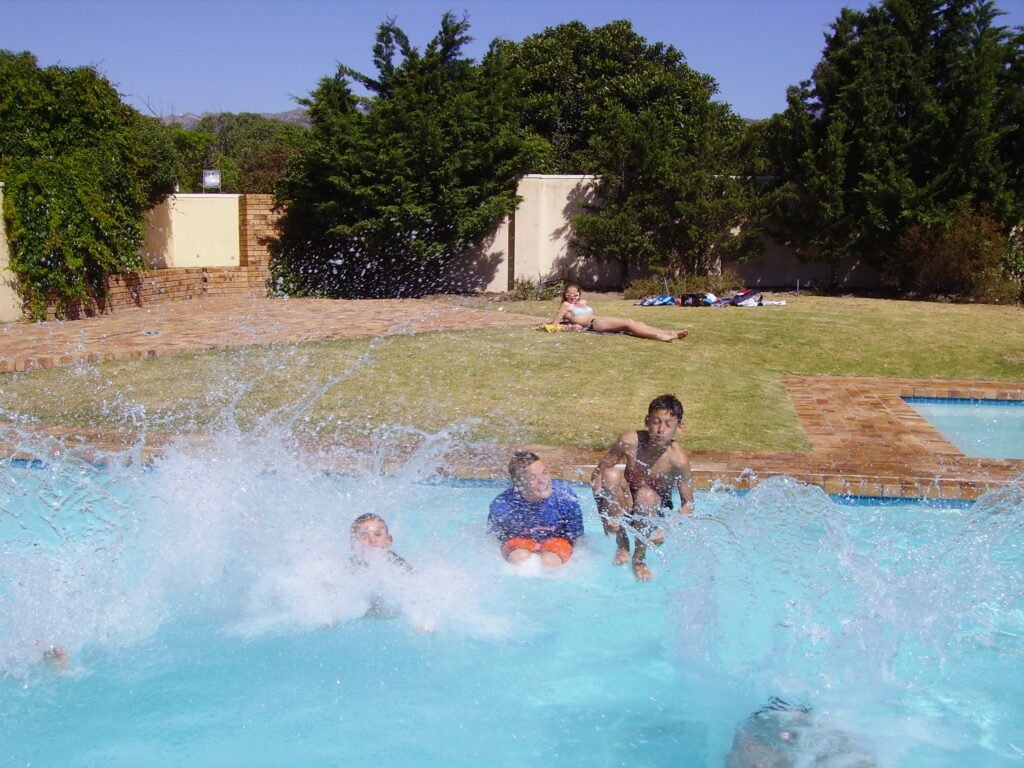 To cool down in the summer months, if sea water is not your cup of tea, Greenways boasts two sparkling fibre glass swimming pools located alongside the clubhouse. The adult pool is 14m in length and 7m wide with a maximum depth of 2.5m whilst the kiddies pool is 4m square with a maximum depth of 500mm.
The pools are open in daylight hours during the summer months and all residents of Greenways are welcome to make use of them, free of charge, with the understanding that they do so at their own risk (no life-saver employed).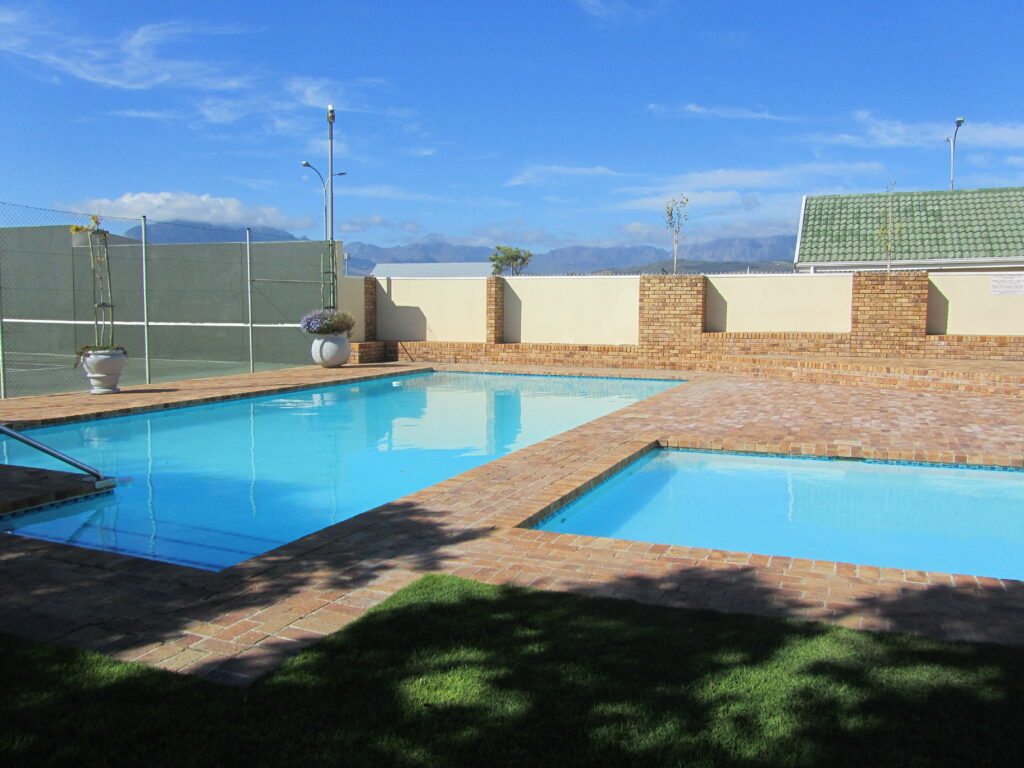 Tennis Courts
For the sports enthusiast who needs to burn off some additional energy, two full size all-weather tennis courts in close proximity to the clubhouse are available, free of charge, to all residents of Greenways.
There is no time restriction with regard to the period occupied but it is understood that the requirements of other residents be respected and the time on court should thus not be abused. We are currently also in the process of trying to establish a Tennis Club with volunteer organizers.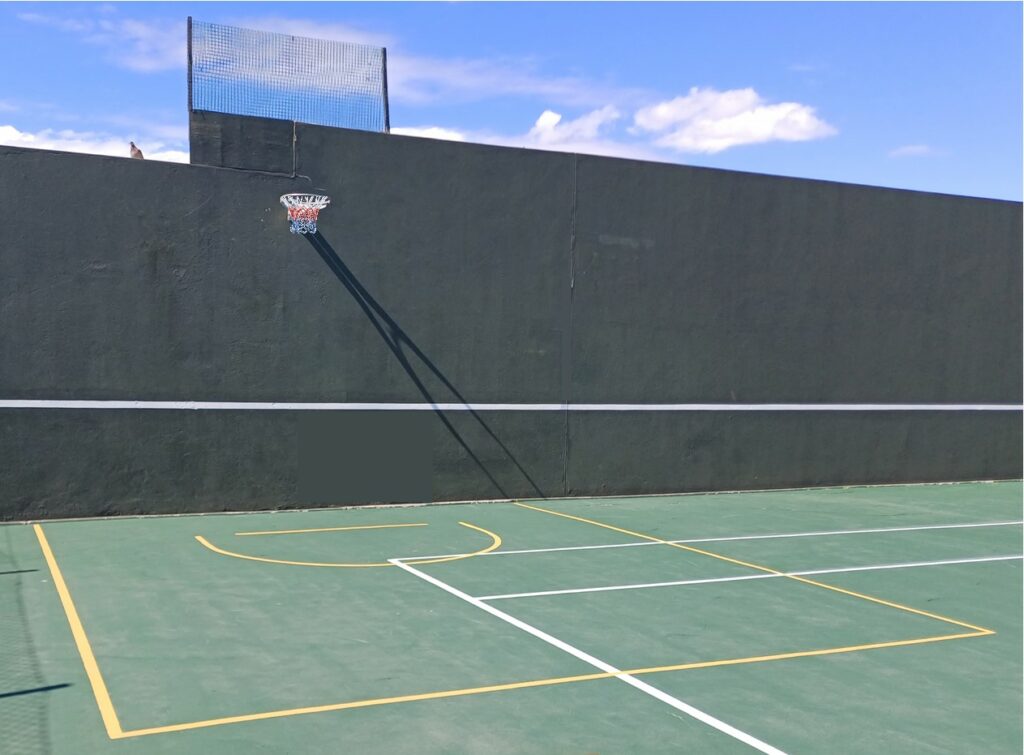 A mini half-basketball court has been added within the confines of one of the tennis courts making use of the practice wall as the boundary. Once again, for the use of all residents but must be co-ordinated with tennis players so as to avoid overlapping usage and thus avoid any possible unpleasantness.
Doggy Run
An enclosure where owners can allow their dogs to run freely i.e. without a leash, for a limited period whilst also meeting other dogs as well as Resident dog owners also becoming more acquainted with one another was erected in an unused area of the common property. The current enclosure includes a tunnel for the dogs to run through, a huge water trough for you to fill your doggy's bowl and a large open undulating area for the dogs to run to their heart's content. The water tank will be filled by Greenways' staff and two water bowls which will be refilled with clean water daily have been placed there for your convenience. It is therefore not necessary for Residents to bring water for their pets. It is envisaged to increase the 'toys' in the near future, and any donations in this regard will also gladly be accepted.